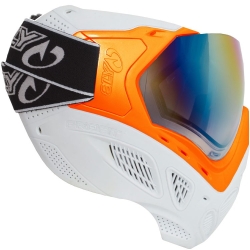 The Sly Profit Mask is one of the best if not the best paintball mask available. The lens does not fog and the paintball mask is unbelievably comfortable.
With over 2 years of design, testing, and evolution, the PROFIT Goggle system has arrived. Exceeding all the demands of the modern competitive player, the PROFIT goggle combines an optically perfect thermal gradient lens with the most comfortable frame and mask ever developed. The dual pane thermal lens of the Sly Profit mask is very easy to pop in or to take out. Sly has made a variety of different lenses and colors for their Profit series mask including the ever popular tinted and gradient fade lenses. The Sly Profit mask has a flex bottom which will give you crucial bounces in those tough games. The Ear pieces of the Sly Profit paintball mask are using brand new technology and are more comfortable than any other mask. The Soft ear pieces of the Sly Profit mask suck right into your ear and give the mask a very unique and comfortable feel. Overall this looks like a great mask for anyone who is looking to really step up their game and have every possible advantage against your competition.
We have every color in stock – black, black acu, blue, red, olive, tan, digi camo, white, titanium, ice pick, and neon orange. This makes a great Christmas gift, get them fast because they normally sell out in a short time period.